10 Things to Do in Quarantine
Stuck at home until you get the all-clear that you're not a coronavirus carrier? Trying to keep the kids entertained while school is shut down?  Here are some things to try!
1.  Sort & Tag Digital Photos.  If you are like me, you have hundreds or even thousands of digital photos.  Now is a good chance to get them sorted!  I like to sort by year and month but you can sort in all kinds of ways – Events, People, Places, etc.
2. Prep & Freeze Meals.  Now might be a good time to make some freezer meals or those big batch meals you never get around to making.  Bonus, you can spend this time teaching the kids how to cook!
3. Declutter.  What better time to declutter your house?  Go room by room and sort items into Keep, Donate, or Trash.  You can also start a spring cleaning list for each room and maybe get that done too!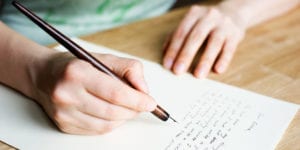 4. Write Letters.  This dying art is a great way to pass the time and connect with family/friends!  Get the kids in on it too!

5. Get Virtual.  Attend a virtual opera or take a virtual tour of a museum!  Not something you would usually make time for plus you can get some cultural experience in!
6. Read That Book.  Odds are you have a book or two laying around the house that you've been meaning to read.  Now is your chance!  No books, no problem!  Most libraries have e-books you can download or you can find a vast selection online.
7. Play Board Games.  Make family time fun with board games!  Teach the kids new ones or just play your favourites.  This is great for passing some time as well as spending quality time with the family.
8. Get Moving.  Start an exercise program, take up yoga, or learn how to stretch.  Make sure the kids join you!

9. Organize those Closets.  What a great time to organize the closets in your house!  If you get done with closets you can tackle the kitchen cabinets, pantry, linen closet, and bathroom cabinets!
10. Get Experimental.  There are hundreds of ideas online for safe, fun science experiments that you can do with the whole family.  You may create a love of science in your children (or yourself)!

No matter what you end up doing to pass this time, I hope you will find the silver lining in all this and spend some quality time at home!